Comments Off

on Ladies, Are We Retirement Ready?
By: Glen Reyburn, Univest Bank & Trust Co.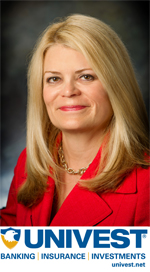 As women, we do our best to exercise, eat a healthy diet and dutifully schedule our routine medical check-ups. It's important for us to look and feel our best, and many of us spare no expense to get the desired results—more than $7 billion a year is spent on cosmetic products in the U.S. And, that figure doesn't include money we spend on laser treatments, injections or even surgeries to look good and defy the aging process.
Don't get me wrong, I think we all deserve to look and feel good while living a happy, healthy lifestyle. In fact, all our efforts are paying off. We could easily live to be 90 or even 100. My question to you is this—can you afford to live that long?
Make Retirement Planning a Priority
If we focused a tenth of the amount of time on our retirement planning as we did on our beauty regimens, we might be in much better financial "shape" at retirement. The average woman spends $15,000 on makeup during her lifetime.  However, less than 45% of women between the ages of 21 and 64 participate in a retirement plan. Approximately 75% of Americans approaching retirement in 2010 had less than $30,000 in their retirement accounts.
It's important for women to focus on preparing for retirement—90% of women will be responsible for their own finances in their lifetime.  While saving for our retirement we women also need to appreciate that we face special challenges—women still earn 19% less than men and women are out of the work force for an average of 12 years to care for children and aging parents.
Places to Start
If there is a retirement savings plan sponsored by your employer, make sure that you optimize that tax deferred contribution.  A common option is the 401k. Other plans such as 403b or 457 are offered to employees of public schools, nonprofit organizations, state and  local governments and other tax-exempt entities under section 501(c)(3) of the IRS code.  Whether it is a 401k, 403b or 457 plan, take advantage of investing part of your paycheck on a pre-tax basis.  Many employers offer to match your contribution, so at the very least, save the amount your employer will match.  If you can't save the maximum ($17,500 per year), try increasing the amount you save each year.  If you are 50 or older and have saved the maximum for the year, there's a special catch-up provision that allows you to contribute an additional $5,500.
If you don't have a retirement plan with your employer, make sure you contribute to an IRA (Individual Retirement Account).  If you are 50 or older, there's a special catch-up provision that allows you to contribute an additional $1,000 per year to the $5,500 allowable contribution. The earlier you start to save, the better, but it's never too late to start saving.
Periodic Reviews
If you do have a retirement plan, review it regularly with your advisor. Make sure you understand your investments and how they can help you achieve your goals.  If you don't have an advisor, consider hiring one. An advisor can help you create a plan, answer those questions that keep you awake at night, and get you on track to meet your objectives.
Consider this, if you saved $100 per month (approximately the cost of getting a weekly manicure) for 20 years and earned an interest rate of 5%, you would save almost $39,000 dollars.
Let's make our retirement something we can look forward to as well as afford.
The views expressed are not necessarily the opinion of Univest Bank and Trust Co. For specific advice about your situation, please consult with a tax or financial professional.
Glen Reyburn, ChFC®, AEP®,Vice President and Senior Financial Advisor, Wealth Management, Univest Bank and Trust Co., has 20 years of experience in the financial services industry. Glen is responsible for providing comprehensive wealth management solutions for individuals and their families in the Chester County region.  109 N. High St., West Chester. 484-947-2751; Reyburng@Univest.net.